Abhimanyu Ghosh – Editor in Chief, WCRCLEADERS ASIA
Abhimanyu Ghosh has been awarded India's Best Young Entrepreneur by The Media Federation of India. His business venture WCRCLEADERS Asia has been awarded as the best niche business media. Abhimanyu Ghosh is a recipient of various accolades in the field of research, consulting and media.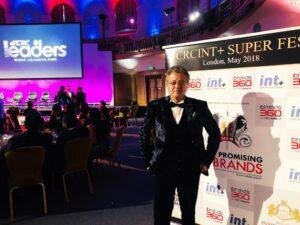 Abhimanyu is a serial entrepreneur, brand guru and a visionary. His ventures include WCRCINT, ibrands360, Gaps Inc, KVG Media and Entertainment, WCRCLEADERS. He owns the KVG All Stars football team in the Adidas Creators Premier League. His KVG All Stars sports venture is into creating global sports and intellectual intellectual properties.
Abhimanyu Ghosh with over 25 years of experience in creating world class brand rating projects has created a global dais that acknowledges and profiles all the foremost brands, companies and stellar leaders under a canopy of various appellations.
Abhimanyu has over the years established a prodigy with reverent sectors in the industry. His global initiatives in the world of branding and research beholds the privilege of citation to several televised intellectual properties including – Brand of the Year, Most Valuable Brands, Asia's Most Promising Brands, India's Most Promising Brands, Asia's Best & Fastest growing Education Institute, Power Leaders of India, Top 50 women in the Business of marketing, 100 Most Powerful Women of Asia.
Abhimanyu can be credited with conceptualising the substantially persuasive and strategically acclaimed communicatory paradigms through monthly publications- Leaders Asia as well as Brands Illustrated. He is the coiner of these highly analytical monthly magazines aimed at a discerning readership focusing on Leadership, Advertising, Branding & Marketing. The magazines are targeted towards the audiences from South Asia, GCC & South East Asia and are currently distributed to almost 10 countries in these regions. Special Coffee Table Books provides an introspective glance of all intellectual properties by WCRC.
Abhimanyu has shared his experience by writing for guest columns for various leading business publications and has also conducted training workshops in the fields of Leadership, Motivation, Sales & Marketing with India's top most companies.