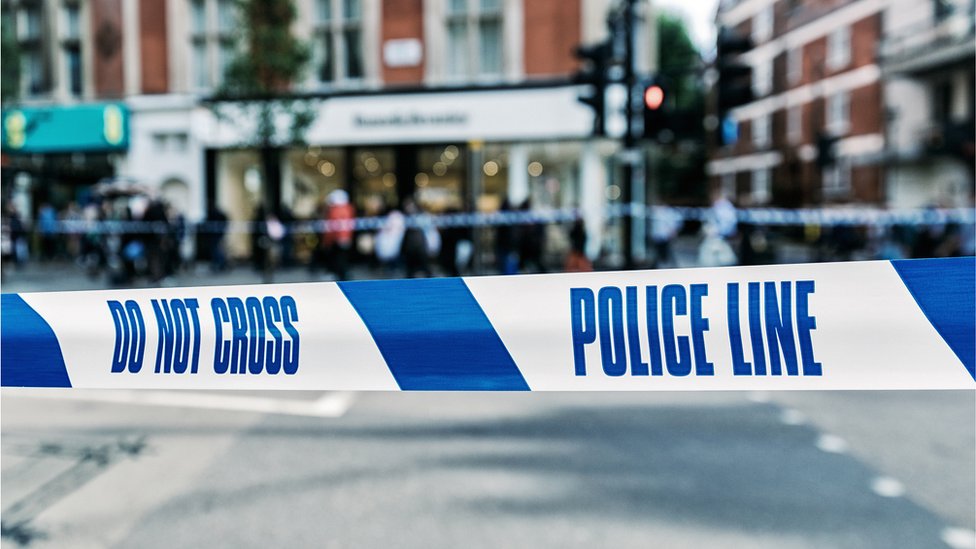 The number of violent crimes and sex offences recorded by police in England and Wales has risen sharply over the past year, figures show.
Knife crime and robbery also increased in the 12 months to September 2017 compared with the previous year, the Office for National Statistics said.
About 5.3 million crimes were recorded in all in that 12-month period, up 14%.
However, the separate Crime Survey, based on people's experiences, suggests crime continues to fall.
This survey, based on interviews with 35,000 households in England and Wales, includes crimes that people do not report to police.
The latest police figures for the 12 months to September from 44 forces show:
68,968 robbery offences, up 29%
138,045 sex offences, up 23%
37,443 knife crime offences, up 21%
1,291,405 violent crime offences, up 20%
There were 37,443 knife crimes and 6,694 gun crime offences recorded in the year to September.
The number of offences involving a knife or a sharp instrument had been falling since 2011 but started rising again over the past three years, the ONS said.
These crimes tended to be concentrated in cities, in particular London, the ONS added.
There were also increases in vehicle-related theft offences, which were up 18% to 443,577, and burglary, which rose by 8% to 433,110, police data showed.
Shadow home secretary Diane Abbott said the figures were "truly shocking" and should "put an end to government complacency on crime".
"The Tories are failing in a basic duty to protect the public," she added.
The Police and Crime Commissioner for the West Midlands, David Jamieson, said his force had lost more than 2,000 uniformed officers since 2010 and his budget had been cut by 25%.
"Any sensible person can see if you take away a quarter of the budget, you can't carry on protecting the public in the same way," he told BBC News.
He anticipates having to lose a further 150 officers this year.