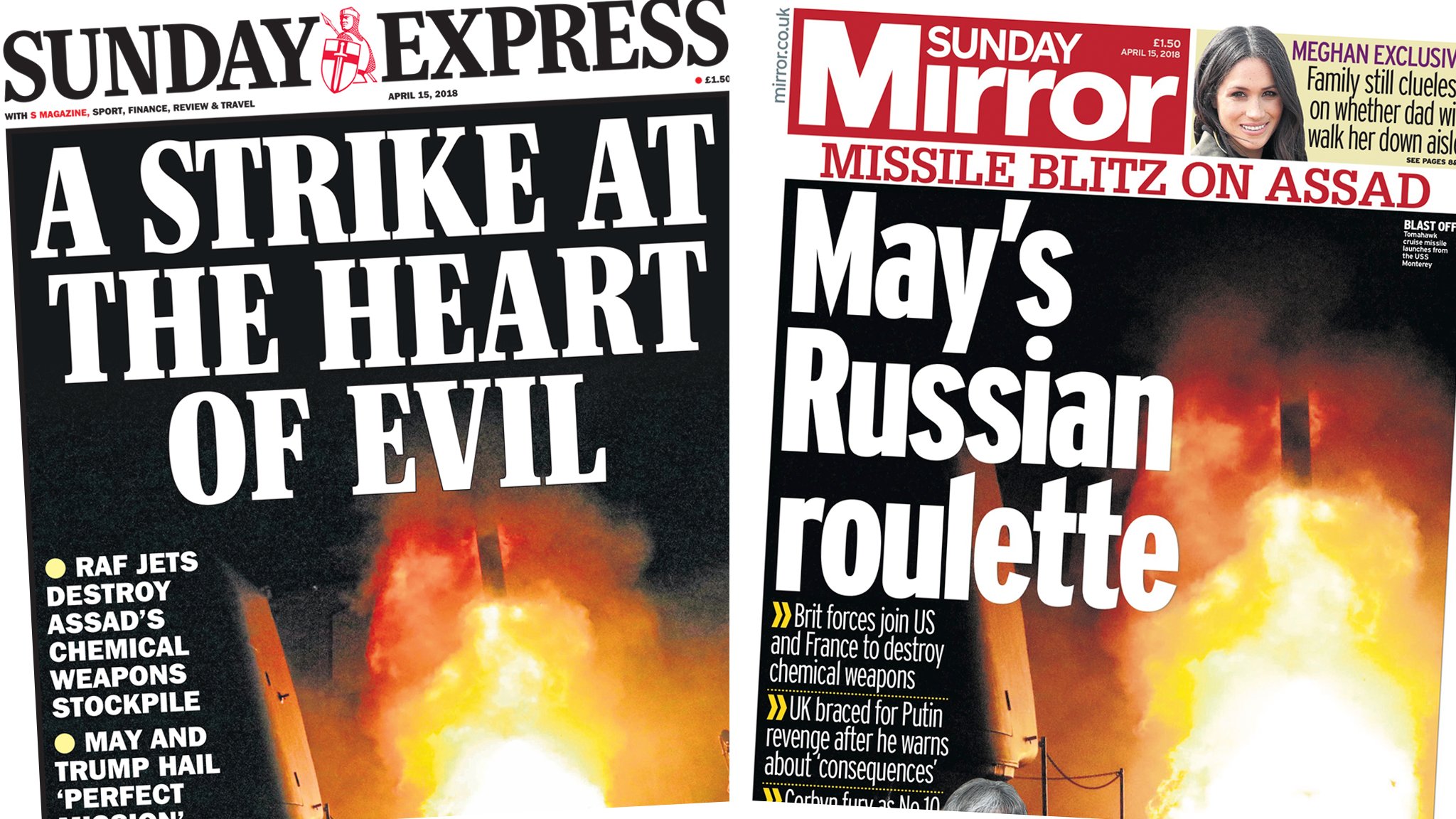 The US-led strikes on three alleged chemical weapons facilities in Syria feature on many of the front pages.
The Sunday Express, Star on Sunday, Sunday Mirror, the Mail on Sunday and the Observer all carry pictures of the missile attack supported by the UK and France.
In two minutes President Assad's chemical weapon centres were wiped out setting the regime's capabilities back by years, says the Sun on Sunday.
It reports Prime Minister Theresa May has vowed further action if there are more chemical attacks and claims the Football Association may be thinking about boycotting the World Cup in Russia.
"We'll strike again", is the headline on the front of the Sunday People.
Meanwhile, both the Express and Star describe fighting back against the "evil" force of Assad. The Express quotes the UN's US ambassador Nikki Haley saying the Syrian chemical weapons programme has been "crippled" by the strikes.
But, the paper reports, Turkey's president has questioned why the Syrian people have not been defended before now.
Get news from the BBC in your inbox, each weekday morning
Not everybody is backing the move – as the Star reports Labour leader Jeremy Corbyn's criticism of Mrs May. According to the paper, Mr Corbyn has accused the PM of "trailing after Donald Trump".
The Mail on Sunday reports senior Tory ministers David Davis, Esther McVey and Sajid Javid raised concerns about Mrs May's decision not to consult MPs before giving the order.
The risk of Russian retaliation is the focus for the Sunday Mirror as the country is a key supporter of the Syrian regime.
The paper reports the UK is braced for "Putin's payback", which it speculates could include cyber attacks supported by an "avalanche of fake news" to target national infrastructure.
It quotes counter-terrorism experts claiming military action is likely not to be high on Russia's wish list.
"I slept through it" – that's the claim in the Observer of one Damascus resident who lives near a site targeted by the Allied forces.
The paper spoke to several Syrians who said: "we are used to this" while others said there was no screaming or hiding from the missiles but instead people stood on the roof of their buildings.
The Sunday Times also highlights the people of Syria in its coverage of the strikes including a seven-year-old girl who survived the alleged chemical attack.
It tells the stories from 7 April – tales of relatives convulsing and the feeling of the dust in their throats "spicy like chilli".